Waffle Taste (5/5)

Cooking Time (4.6/5)

Durability (5/5)

Easy to Clean (4.5/5)
Summary
Pros
least messy waffle maker ever created
easy to clean (you will not make a big mess when you pour in the batter)
easy to store because it is aligned vertically
temperature knob has 5 shade levels
audible signal tells you when the waffle iron is done making your waffle
rubber feet
power indicator light; ready to bake/ready to eat indicator light
BPA Free
Finish - Red, brushed stainless steel
Cons
waffle plates are not removable
no on/off button (you will have to pull the plug out of the outlet to turn off the machine)
no digital timer
more expensive than most waffle makers but it is well-built so it will last for a long time and the waffles taste really good
Final Verdict
This waffle iron makes great tasting waffles and it won't leave a big mess like other waffle makers do. It has a lot of the standard features found in most waffle makers. However, it is more expensive than the standard Belgian style waffle maker. I think it would be a great buy for anyone with money to spare and who is looking for a unique, cool waffle maker.

Click Here For Lowest Prices!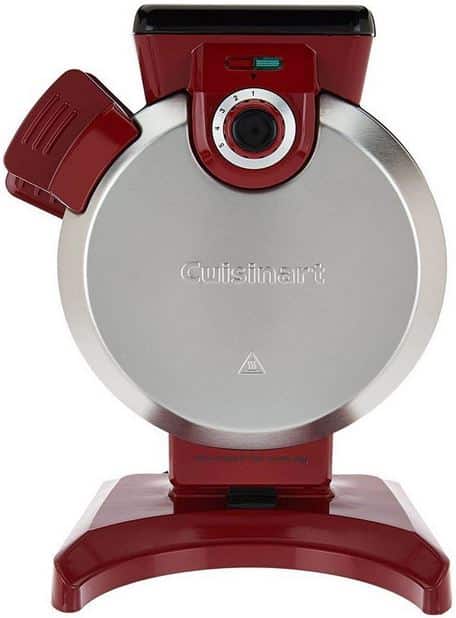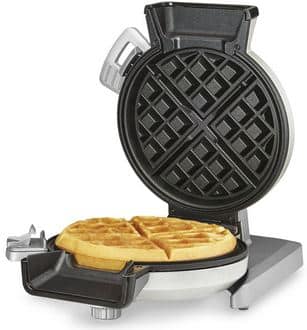 This Cuisinart WAF-V100 review will tell you everything that you need to know about this vertical belgian waffle maker. It is really unique because it is the first vertical waffle maker on the market. The advantage of a vertical unit over a horizontal one is that you won't make a big mess pouring in the batter. Also because it is in a vertical position it will take up less space on your counter. This appliance makes one round Belgian waffle that is divided into 4 easy-to-cut sections. These waffles are much thicker than the traditional waffles that the best thin waffle makers make. It does not have removable plates but the plates have a nonstick coating which makes them really easy to clean. This appliance has an audible alert that will tell you when your waffle is fully cooked. Unfortunately, it does not come with a timer, on/off button, or a thermostat. You can purchase this unique appliance for under $100.
Cuisinart WAF-V100 Review – Is this vertical waffle maker worth buying?
Pros
least messy waffle maker ever created
unique, vertical design
easy to clean
you will not make a big mess when you pour in the batter
easy to store because it is aligned vertically
temperature knob has 5 shade levels
audible signal tells you when the waffle iron is done making your waffle
Cons
waffle plates are not removable
no on/off button (you will have to pull the plug out of the outlet to turn off the machine)
no digital timer
more expensive than most waffle makers but it is well-built so it will last for a long time
Video Demonstration
Features of the Cuisinart WAF-V100 Vertical Belgian Waffle Maker
Brushed stainless steel housing has an embossed Cuisinart logo (it is visually appealing and durable)
Fill Spout – this is where you add in your batter and it is really easy and mess free
Stay-Cool Latch – Releases front plate to remove waffle, locks to securely close unit.
Nonstick Baking Plates – Die-cast aluminum plates bake a large, round, four-sectioned, deep-pocketed Belgian waffle.
Browning Control – Temperature knob offers 5 shade levels
Red indicator light signals when the power is on
Green indicator light signals when waffle maker is ready to bake and when the waffle is ready to eat
Audible Signal – 5 beeps sound when waffle maker is ready to bake, and when waffle is fully cooked and ready to eat.
Cord Storage – Cord wraps around the base stand of the unit
Closed waffle maker stands upright for compact storage
Rubber Feet – Feet keep unit stable and will not mark up your countertop
BPA Free materials means that no BPA will come in contact with any food you bake in the waffle iron
Measuring Cup (color may vary) – Makes it clean and easy to pour just the right amount of batter into the spout. It measures about 1 standard cup. The cup conveniently rests on the inside of a batter bowl.
Color: Silver
Frequently Asked Questions (FAQs)
Are the plates removable?
No they are not. They are still easy to clean because they contain nonstick surfaces. After the appliance is done baking, you can just wipe the grids clean with a damp cloth.
No it does not.
How can you tell if the device is on?
Plug the power cord into a standard electrical outlet. The red indicator light will turn on to signal that the power is ON and the appliance will begin to heat up.
Where Can I Buy The Cuisinart WAF-V100 Vertical Belgian Waffle Maker At a Discounted Price?
The suggested retail price for this unit is $145.00. However, you can save more than 40% off this price and pick this up for just under $80. You can also get free shipping since this unit costs more than the $49 minimum price for free shipping. Check out this waffle maker through the link below and see for yourself how big of a discount you can get.