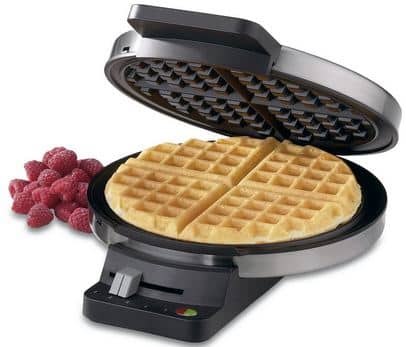 If you are looking for one of the best thin waffle makers that make the old-fashioned, thin waffles that your mother or grandmother used to make, then should take a look at the Cuisinart WMR-CA Round Classic Waffle Maker. This appliance will help you quickly bake the same type of traditional thin waffle that you enjoyed eating when you were a kid. It is a good choice if you do not want to make the thick, fluffy Belgian style waffles that many of today's most popular waffle makers make. Some people think Belgian waffles are too fluffy and taste too cake like. A Belgian waffle has deeper pockets than a thin, traditional waffles does but the outside is not as crispy. This product will bake you a round classic waffle that will remind you of the pleasant memories of your childhood. These round waffles are about 7 inches in diameter and about 1/2 inch thick.
Pros
bakes one thin, classic style waffle in 4 to 5 minutes
cooks waffle evenly
nonstick coating on the waffle plates makes them easy to clean
well-built and durable
five setting temperature control lets you control the temperature so that you can bake the outside as crispy as you want it
green indicator light will turn on when the waffles are ready
affordable (it can be purchased online for under $30)
Cons
the waffle plates (grids) are not removable
does not come with a drip tray to catch the excess batter
no on/off switch (you have to pull out the plug to turn off the machine)
Video Demonstration
Features of the Cuisinart WMR-CA Round Classic Waffle Maker For Thin Waffles:
Bakes a round waffle that is about 7 inches in diameter and about 1/2 inch thick (it is much thinner than a Belgian style waffle)
Five-setting browning control that will allow you to customize your waffles so that they can be light or all the way up to deep golden brown
Red power on indicator light
Green "ready to bake/ready to eat" indicator light
Round nonstick cook plate with four quarters
Bakes one large traditional-style waffle
Regulating thermostat
Weighted Lid will not rise as waffles bake
Nonstick baking plates
Brushed stainless steel covers gives this appliance a clean and sleek look for any countertop (Do not touch the hot surfaces. Use handles and knobs.)
Can stand on one end to make storage easier
Power cord wraps around the bottom for easier storage
Comes with rubber feet that stops it from moving around your kitchen countertop or marking it up
Instruction/Recipe book included
3-Year warranty
Rated 120VAC 60Hz 1000W so if you are in Europe where the electrical rating is 220V you will need a voltage converter
Material: Stainless Steel
Color: Silver
Average Customer Review Rating: 4.3 out of 5 stars based on over 2,600 customer reviews
Product Dimensions: 11 x 8.5 x 4 inches
Item Weight: 1 pounds
Date first available: May 5, 2003
This is the second best selling waffle maker on Amazon.com and it will also cook the waffles really fast as it gives you a stainless steel non-belgian waffle maker with nonstick plates so you will get indicator lights and you will also get a regulating thermostat which will make it easy to have the waffles the way you want as you will get a five setting Browning control.
All you need to do is set the level that you want in the settings and then it will cook your waffles either Brown and crispy or you can happen softer and warm with some butter on them, there is no right way to cook the waffles and is a bit like toast in the way that you can have it down to your preference. If you want to be able to control your waffles and how cooked they are you might want to check out this option.
Once your waffle maker has heated up it will give you a weighted lid which works a bit like a sandwich maker and then you simply clamp it down on to your waffles and it will make them super fast for you, this product also comes with rubber feet so it will stay in one place and not move around and it also gives you a handy cord storage so you do not have to worry about the cords being left on top.
Frequently Asked Questions (FAQs)
Are the waffle plates removable?
No they are not.
Yes there is. The Black+Decker G48TD 3-in-1 Waffle Maker & Indoor Grill/Griddle comes with removable waffle plates. It will allow you to make waffles, bacon, eggs and pancakes. It offers you two nonstick cooking surfaces that you can use at the same time.
Is this appliance easy to clean?
Yes it is. Even though the plates are not removable, this waffle maker is easy to clean because the plates are teflon-coated. You can just use a paper towel or cloth to wipe away any excess oil. Once you are done with the machine, you should remove the plug from the electrical outlet and leave the top lid open so that the grids can cool off. Make certain the grids have completely cooled off before cleaning. You should not take this appliance apart for cleaning. Simply brush the crumbs from the grooves and wipe any excess cooking oil with a dry cloth or paper towel. You can also clean the grids by wiping with a damp cloth to prevent staining and sticking from batter or oil buildup. If batter adheres to plates, simply pour a little cooking oil onto the baked batter and let stand approximately 5 minutes, thus allowing it to soften for easy removal. To clean exterior, wipe with a soft dry cloth. Never use an abrasive cleanser or harsh pad.
Does this appliance have a small footprint or does it occupy a lot of counter space?
It has a small footprint so it will not take up a lot of space in your kitchen. Once it is ready for storage, you can just wrap the cord securely around the base and it will store away easily. Plug prongs fit into the special grooves on the side. For compact, vertical storage, you can stand the waffle iron on the opening end so that the Cuisinart logo is facing you. It has been designed with a special latching feature so the lid will remained closed during storage.
How do you use this appliance to make great tasting waffles?
Cuisinart recommends sliding the heat setting of the browning control to #3 for golden brown waffles. If you prefer crisper, darker waffles, increase the browning control to setting #4 or 5. For evenly filled waffles, pour the batter onto the center of the lower grid and close the cover. We recommend using 1/2 cup batter per waffle for evenly filled waffles.
Do the waffle still taste good if you don't eat them right away?
Waffles taste the best when they are made to order, but baked waffles may be kept warm in a 200°F oven. Place them in a baking pan or wrap them in foil while in the oven. Waffles wrapped in foil may lose their crispiness. Baked waffles may be frozen. Allow to cool completely, then place in plastic food storage bag. You should use waxed paper to keep the waffles separated. Reheat in a toaster or toaster oven when ready to use.
Why is the power cord so short?
The power-supply cord is short because the manufacturer wants to reduce the risks resulting from becoming entangled in or tripping over a longer cord. Longer extension cords are available and may be used if care is exercised in their use. If a long extension cord is used, the marked electrical rating of the extension cord should be at least as great as the electrical rating of the appliance, and the longer cord should be arranged so that it will not drape over the countertop or tabletop where it can be pulled on by children or animals, or tripped over.
Are the instructions really complicated or is this device really easy to use?
This device is easy to use. If you used a waffle maker before, then you should have no problems using this one.
1. Preheat the waffler. Close grids and plug cord into a 120V AC wall outlet. The red light will go on to signal power. Allow the waffle maker to preheat. The green indicator light will go on when it is ready to use.
2. Pour batter when green indicator light goes on. Pour batter onto the center of the lower waffle grid. Use a heat-proof plastic spatula to spread batter evenly over the grids. Close
the lid.
3. The green light will go off and the red light will once again illuminate. It may take several seconds for the red light to come on. This is normal.
4. Once the waffles are ready to eat, the green light will again come on.
5. Baking time is determined by browning level. Choose a setting on the browning control dial. We recommend using setting #3 for golden brown waffles.
6. Once the waffle is ready, remove it by gently loosening the edges with a heat-proof plastic spatula. Never use metal utensils, as they may damage the nonstick coating.
7. Always disconnect the plug from the wall outlet once baking is completed.
Can you use this device right out of the box or do you have to season it first?
The Cuisinart Classic Waffle Maker has been treated with a special nonstick coating. Before the first use, we suggest you season the waffle plates with cooking spray or flavorless vegetable oil. If using oil, apply oil with a paper towel or pastry brush.
Should you apply cooking oil to the waffle grids before each use?
You may find that it is easier to get the waffles out of the appliance if you apply cooking spray or flavorless vegetable oil to the plates before each use of the waffle maker.
Customer Reviews for the Cuisinart WMR-CA Round Classic Waffle Maker for Thin Waffles:
Look at the customer reviews of the Cuisinart WMR-CA Round Classic Waffle Maker we think you will be very impressed and will get a waffle maker that will last you for a long time with all of the features that you need!
At the moment you can pick this non-belgian waffle maker up for under $30 which is a steep discount off of the suggested retail price! If you are looking for a really good non-belgian waffle maker at a great price and loads of features, then check out the link below and grab it at an absolute bargain from Amazon.com.