Waffle Taste

Cooking Time

Durability

Easy to Clean
Summary
Pros
bakes 4 square-shaped Belgian-style waffles simultaneously in 4 to 5 minutes
easy to clean
compact design allows it to be stored upright in your kitchen cabinet which will save you some space
green indicator light will turn on when the waffles are ready
Cons
the waffle grids or plates are not removable but they have nonstick coating so you can clean them off with a damp cloth or towel
does not come with a shade selector that lets you control the temperature so that you can bake the outside as crispy as you want it
does not come with a drip tray to catch the excess batter
waffles are only 1/2 inch thick
no on/off switch; you have to pull out the plug to turn off the machine
the cord is short
Click Here For Lowest Prices!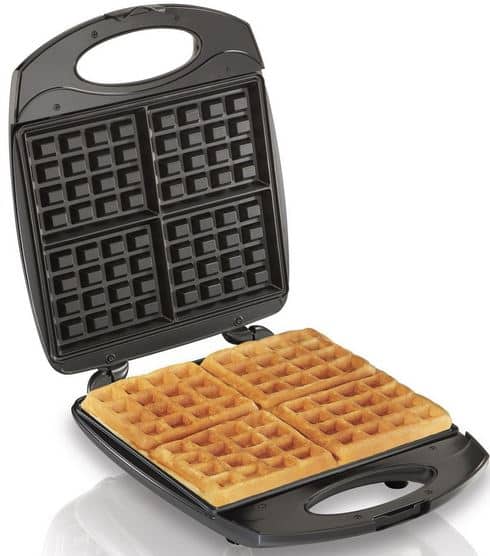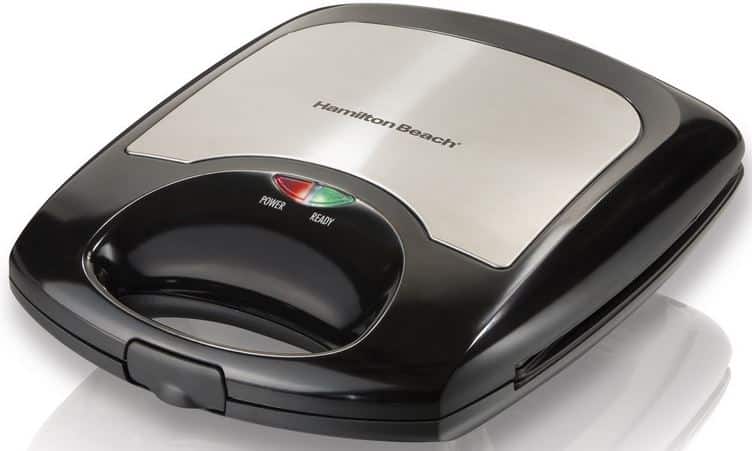 This article will give you a comprehensive review of the Hamilton Beach 26020 4 Square Belgian Style Waffle Baker. This Hamilton Beach 4 square Belgian waffle maker is one of the best 4 square waffle makers for under $30. This waffle iron will help you bake 4 square-shaped thick, fluffy, restaurant-style Belgian style waffles at the same time in 4 to 5 minutes. These waffles are much thicker than the traditional waffles that the best thin waffle makers make. These thick Belgian waffles can fit in a standard full-size toaster so you can freeze the waffles overnight, reheat them the very next day and they will still taste great.
You can use homemade or store bought batter with this appliance. This is the ideal waffle maker for a household consisting of a large family of 3 to 4 people. Unfortunately, it does not come with a temperature control and it does not have removable waffle plates but it is still really easy to clean. However, it does have a small footprint so it will not take up a lot of space on your countertop or kitchen cabinet. You can purchase this 4 square waffle maker online for under $30. It is one of the best waffle irons at this price point. If you have a small family and you only want to make 1 or 2 waffles each morning and you want a temperature control, then you should purchase the Hamilton Beach 26009 2 Square Belgian Style Waffle Baker instead because it is smaller, designed to make 2 waffles at a time and about $5 cheaper than this unit.
Hamilton Beach 26020 Belgian Style Waffle Baker Customer Reviews – Best 4 Square Waffle Maker Under $30?
Pros
bakes 4 square-shaped Belgian-style waffles simultaneously in 4 to 5 minutes
easy to clean
compact design allows it to be stored upright in your kitchen cabinet which will save you some space
green indicator light will turn on when the waffles are ready
Cons
the waffle grids or plates are not removable but they have nonstick coating so you can clean them off with a damp cloth or towel
does not come with a shade selector that lets you control the temperature so that you can bake the outside as crispy as you want it
does not come with a drip tray to catch the excess batter
waffles are only 1/2 inch thick
no on/off switch; you have to pull out the plug to turn off the machine
the cord is short
Video Demonstration
Hamilton Beach 26020 4 Square Belgian Style Waffle Baker Features
makes 4 square Belgian style waffles in 4 to 5 minutes
Non-stick grids are easy to clean
Can use store bought or homemade waffle mixes
Blue power on indicator light indicates when the power is on
Green preheat ready indicator light tells you when to add batter to the waffle grids
Compact, upright design makes it easy to store upright in your kitchen cabinet
Material: Classic black and stainless steel design
Premium stainless steel will allow it to last for a long time
Color: Silver
Specifications
Dimensions (inches): 4.33 H x 11.14 W x 13.46 D
Item Weight: 7.2 pounds
Frequently Asked Questions (FAQs) About the Hamilton Beach 26020 4 Square Belgian Style Waffle Baker
Does the Hamilton Beach 26020 4 Square Belgian Style Waffle Baker come with a timer?
No it does not. Most waffle makers do not come with timers. You will have to use a kitchen egg timer or some other timer to figure out when to shut off the machine. If you want a waffle maker with a timer, then you should take a look at the Presto 03510 FlipSide Belgian Waffle Maker.
Does it come with a temperature control?
It does not come with an adjustable browning control that lets you make waffles that range from light to brown and crispy. If you want your waffles to be on the crispier side, then you will have to leave it in the waffle maker for a little longer.
How can you tell if the waffles are done?
This appliance has an indicator light that will turn green when your waffles are ready. You can also tell if your waffles are done when the steaming stops.
Will this waffle maker shut itself down when it is done baking your waffle?
No it will not. It does not come with an on/off switch. You will have to pull the plug out of the outlet to turn the appliance off.
Is this waffle iron made in the U.S.A.?
Unfortunately not. Like many other kitchen appliances, it is made in China.
Where is the ideal place to use this appliance?
This device can get extremely hot while it is baking so you should use it anywhere there is 4 to 6 inches of air space above, behind, and on both sides for proper air circulation.
Should you open the lid with your bare hand while the appliance is on?
No. The surfaces are really hot while the machine is on and escaping steam can burn so you should put on an oven mitt before you lift up the lid.
Should you use a metal utensil to remove the waffles?
No. A metal utensil will damage the nonstick coating. You should use a plastic or wooden utensil instead.
Where Can I Buy The Hamilton Beach 26020 4 Square Belgian Style Waffle Baker At a Discounted Price?
The suggested retail price for the Hamilton Beach 26020 Belgian Waffle Maker is $34.99. However, you can save some money by purchasing this online. It would be difficult to find a better 4 slice waffle maker for under $30. You can also get free shipping if your order is more than $49. Check out the Hamilton Beach 26020 Waffle Maker through the link below and see for yourself how big of a discount you can get.