Waffle Taste

Cooking Time

Durability

Easy to Clean
Summary
Pros
nonstick waffle grids are easy to clean
vertical storage means it has a small footprint and is easy to store in your cabinet
Cons
no removable plates
no digital timer
no flip or rotary feature
Click Here For Lowest Prices!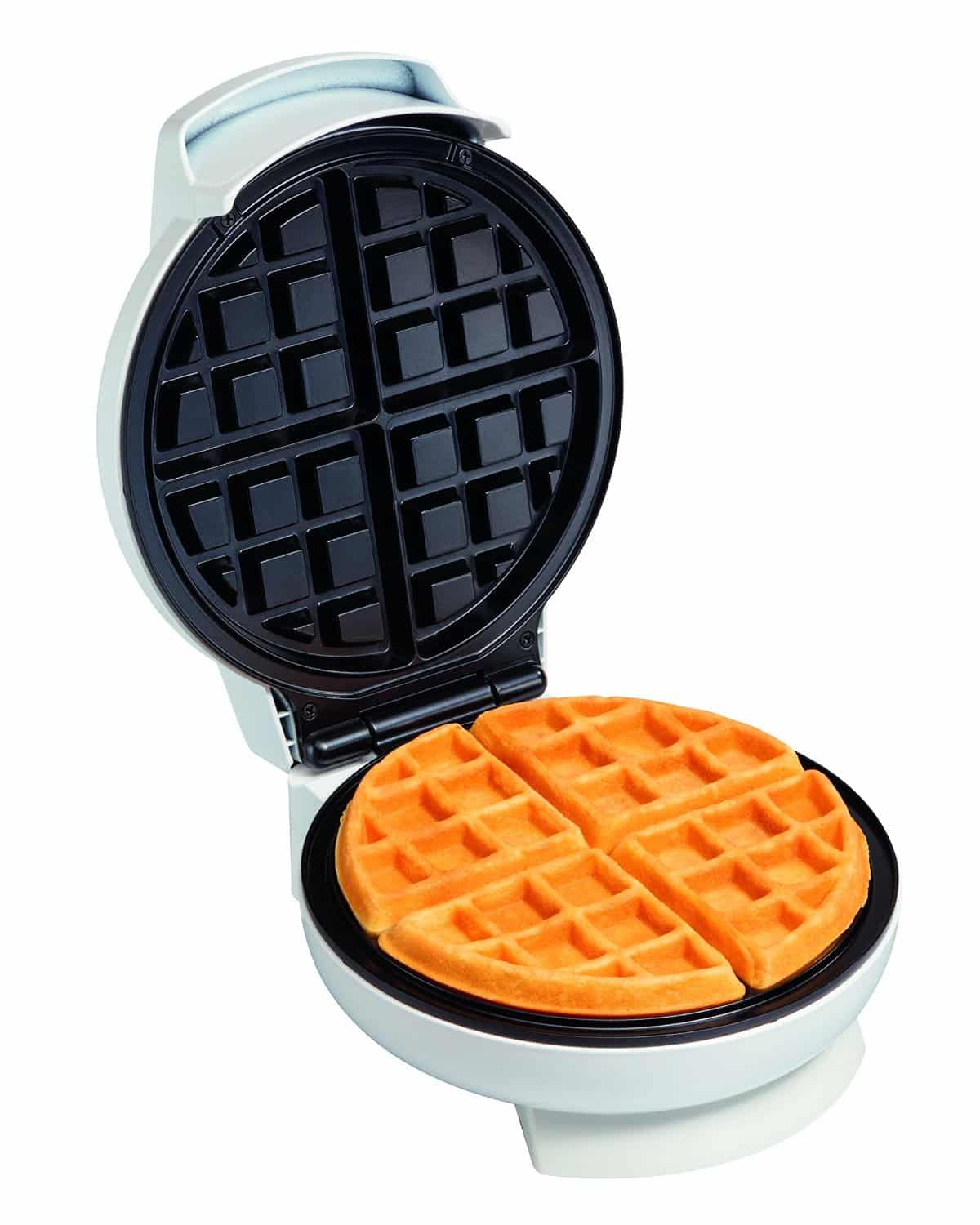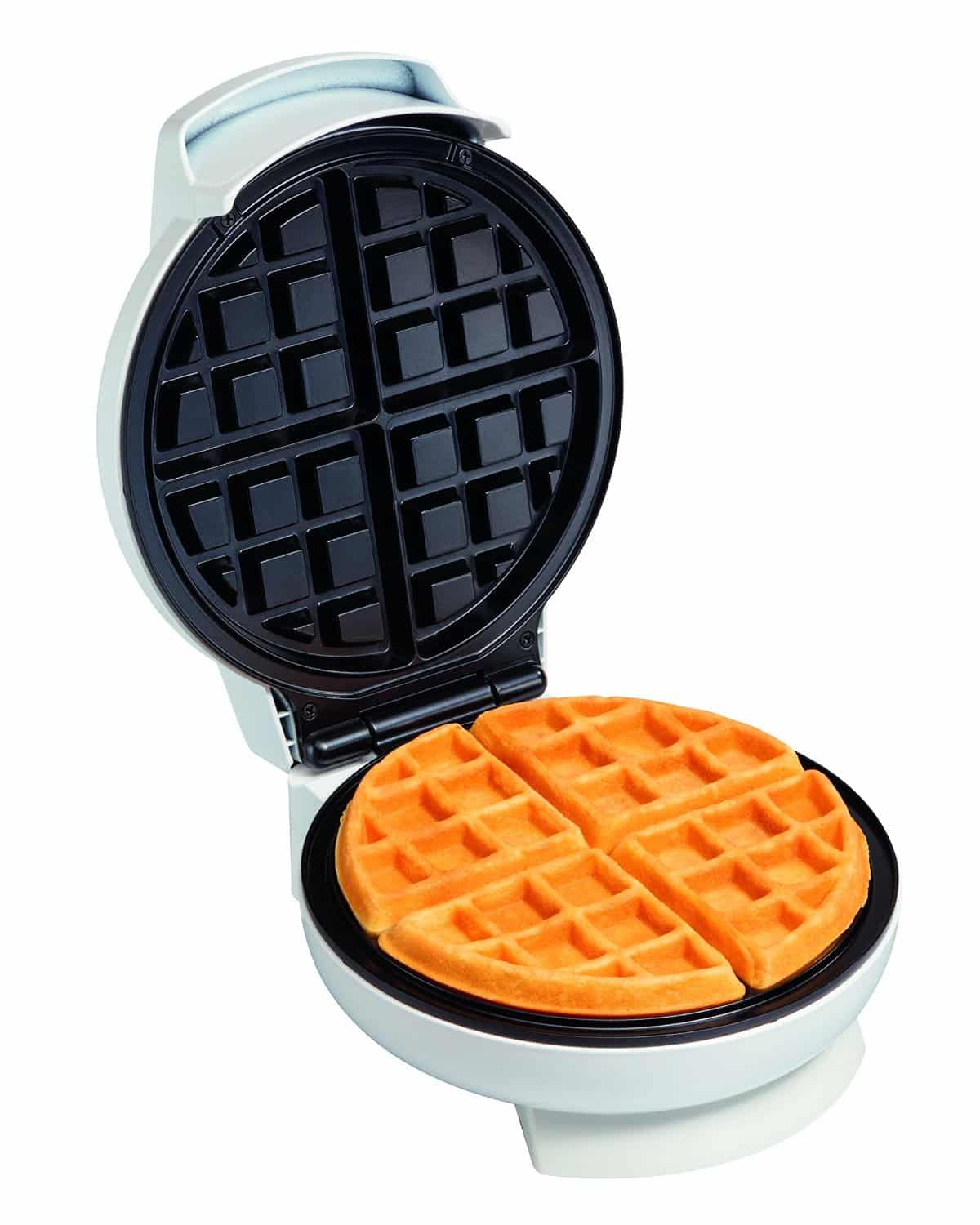 The Proctor Silex 26070 Belgian Waffle Baker will bake a round, fluffy, restaurant-style Belgian style waffle in a few minutes. It does not make the old-fashioned, classic style, thin waffles that the best thin waffle makers make. This is not a waffle maker with removable plates but the plates have nonstick coating so they are really easy to clean. It also does not come with a temperature control knob, digital timer or drip tray but it is really affordable, easy to clean and it will cook your waffle evenly and quickly. You can purchase this waffle maker online for less than $20 online. You can use this waffle iron to bake Belgian waffles for any breakfast, lunch or dinner. If you're craving a sweet, fluffy and mouthwatering Belgian-inspired waffle, the Proctor Silex Waffle Baker can give you that taste from the comfort of your own kitchen using any of the waffle mixes available. With its nonstick design and a waffle grid that's perfectly proportioned for one waffle, this waffle wonder can make thick waffles in the perfect size to fill you up. Most waffles are done in about 5 to 8 minutes. Waffles have long been known as a sweet breakfast food. But don't limit them to your morning meal, try southern-inspired chicken & waffles for dinner or have a ham and cheese waffle for lunch. This waffle maker heats up fast and has a ready light to let you know when it's preheated, so you can enjoy waffles in a matter of minutes. Oil or butter is typically not required on the nonstick plates making cleanup easy. Belgian-style waffles are fun for kids and great for breakfast on the go. Waffles can be prepared sweet or savory for a great addition to breakfast, lunch, dinner, or dessert.
What Are The Pros and Cons of the Proctor Silex 26070 Belgian Waffle Baker?
Pros
nonstick waffle grids are easy to clean
vertical storage means it has a small footprint and is easy to store in your cabinet
Cons
no removable plates
no digital timer
no flip or rotary feature
Product Features of the Proctor Silex 26070 Belgian Waffle Baker
Quick and easy meals
Bakes one round Belgian style waffle at a time (the waffle is 7 inches round and 1 inch thick)
Easy-clean nonstick waffle plates
Power and preheat lights
Compact; upright storage
Deep grooves for fluffy waffles
Material: Plastic
Color: White
Product Dimensions: 5.5 x 9 x 12 inches
Item Weight: 3.3 pounds
Manufacturer: Hamilton Beach
ASIN: B00JR5AAWW
Origin: China
Item model number: 26070
Average Customer Review: 4.4 out of 5 stars based on over 1,400 customer reviews
Date first available: April 7, 2014
Price: under $20
Frequently Asked Questions (FAQs)
How do you know when your waffles are done?
You can look at the steam coming out of the appliance. When it stops steaming a lot less and the light goes out, then that means the waffle is ready. It usually take about 4 minutes and you will hear a soft click sound. However, if you want a crispier waffle, then you should let it cook for one more minute and you will get a darker, golden brown waffle.
Is there a temperature control knob that will let you control how fast it cooks?
No it doesn't. You will just have to wait until it stops steaming and the light turns off.
How do you use this appliance?
The red Power light comes on when the waffle baker is plugged in. This light will stay on until the unit is unplugged. The green Preheat light comes on when the waffle baker has reached the desired temperature and is ready for waffle batter. Check for doneness when steaming slows. Most waffle batter cooks in 5 to 8 minutes, making for a quick meal with easy clean up.
Is it easy to clean?
Allow the waffle baker to cool completely. Wipe the grids clean with a damp soapy cloth. Rinse the cloth and wipe the grids again.
Does it take up a lot of space or does it have a small footprint?
You will not have a problem finding a place to put this waffle iron. This waffle maker stores upright so it will not take up much space in your cabinet, making it easy to bring out for hot and delicious waffles any time.
Does this waffle iron come with a flip feature that cooks the waffle evenly on both sides?
No it doesn't. This waffle iron costs under $20 so you should not expect the flip feature in inexpensive models like this one. If you want one with a flip feature, then you should take a look at the Presto 03510 FlipSide Belgian Waffle Maker (with timer), which is made out of stainless steel, comes with a digital timer and costs under $30. Other great flip Belgian waffle makers include the Black & Decker WM1404S Flip Belgian Rotary Waffle Maker and the Hamilton Beach 26030 Flip Belgian Waffle Maker With Removable Plates.
Can you mix in your favorite toppings or spices in your waffle batter to make a tastier waffle?
Yes you can. If you don't care for plain waffles or need a creative breakfast or dessert idea, then you should stir one of these sweet treats into the batter before cooking: chocolate, maple syrup, cinnamon sugar, maple butter, pecans, walnuts, chocolate chips, chocolate covered raisins, or dried fruit. Also if are using nuts in your waffle batter, use chopped nuts and/or evenly spread batter to allow lid to fully close.
More information about the manufacturer of this waffle iron (Proctor Silex)
Since 1960, Proctor Silex has been providing durable small kitchen appliances and irons for homes nationwide. When it comes to quality, we simply aim higher. Our testing exceeds Underwriters Laboratories requirements. From blenders to waffle makers, all Proctor Silex products are subjected to rigorous performance testing to make sure we deliver quality products that you can count on every day for years to come. Bringing you a great combination of features, reliability, durability, and performance at an affordable price, Proctor Silex meets your needs. Whether you use a coffeemaker every morning or bring out a slow cooker for a holiday meal, Proctor Silex products will give you great results every time.