This article will answer the question 'Are Eggo Homestyle Waffles Healthy?'. It will talk about the nutrition facts and ingredients for Eggo homestyle waffles and tell you if they are healthy for you. If you want to make them from scratch, you can use one of Dash's mini traditional Eggo style waffle makers to make these American style Eggo homestyle waffles.
Eggo homestyle waffles only weigh 35 grams each and they have the least amount of calories and sugar of any of the various Eggo flavors but they are not as healthy as their Thick and Fluffy Whole Grain waffles which are made with whole wheat flour and contain 11 grams of whole grains.
Eggo's two most popular waffle flavors, Homestyle and Buttermilk, do not have as much sugar as their eggo grab go liege buttery maple and strawberry waffles.
Enriched Flour
Eggo Homestyle waffles are made from enriched flour, which contains wheat flour, niacin, reduced iron, vitamin B1 (thiamin mononitrate), vitamin B2 (riboflavin), and folic acid.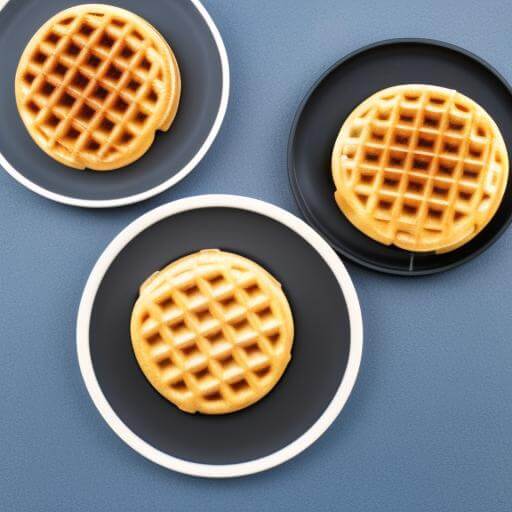 Enriched flour, also known as all-purpose flour, refined flour, or white flour, is made by removing the bran and germ from the wheat kernel during the milling process which takes away some of the natural vitamins and minerals from the wheat kernel. The enriched flour is fortified by adding some of these nutrients back into the refined white flour. Enriched flour is used, instead of refined white flour, to make bread, cakes, and cookies because it contains more nutrients.
The most common nutrients that are added back into refined white flour are iron, thiamin, niacin, and folic acid because they are required for proper metabolism, cell function, and red blood cell production. Enriching flour with these four nutrients ensures that people get the recommended daily amount of these essential vitamins and minerals.
Why you Should Avoid Enriched Flour
The main differences between enriched flour and whole wheat flour are that whole wheat flour is made from the bran, germ, and endosperm of the whole grain kernel while enriched flour is only made from the endosperm. Since whole wheat flour is made from the entire whole grain kernel, it has a lot more calcium, iron, and fiber. However, it has a shorter shelf-life and looks grainy.
Enriched flour is flour that is made from wheat grains after the bran and germ from wheat kernels are removed during the milling process, leaving only the endosperm which is processed into white flour. This means that enriched flour will have a longer shelf life and a white and powdery appearance.
However, stripping away the bran and germ during the milling process also results in a loss of dietary fiber, iron, and other nutrients. This is why enriched flour is then fortified with some of these lost nutrients, including iron and B vitamins iron, thiamin, riboflavin, niacin, and folic acid. These nutrients are not as good as the ones found in whole grains, which are any type of grains (rice, wheat, corn) that contain the entire whole grain kernel ― the bran, germ, and endosperm.
Enriched flour also has a higher glycemic index than whole wheat flour. This means that it can raise your blood sugar levels more quickly because it does not have enough fiber to slow down the absorption of glucose. In contrast, whole wheat flour has enough fiber content to limit the absorption rate of glucose, keeping your blood sugar levels steady. So people with diabetes or prediabetes should definitely avoid food that utilize enriched flour if they want to stop their blood sugar level from spiking.
Enriched flour is also high in gluten. Gluten is a protein found in wheat that can cause digestive problems for people with celiac disease or non-celiac gluten sensitivity. If you have either condition, you should try very hard to avoid eating foods made with enriched flour.
Highly Processed Vegetable Oil
Unfortunately, highly processed vegetable oil is used to make Eggo Homestyle waffles. Eggo's vegetable oil is made from soybean, palm, canola, and/or cottonseed oils. Highly processed vegetable oils are overly rich in one of the omega-6 fatty acids, arachidonic acid, which can promote inflammation and increase blood clotting.
Fiber
According to a U.S. Food & Drug Administration article about the new nutrition and supplement facts labels, the daily recommended amount of dietary fiber for an adult on a 2000 calorie diet is 28 grams.
Homestyle waffles do not contain a lot of fiber – each has less than 1 gram of fiber, so if you want to add some fiber to your diet without consuming a lot of calories and sugar, you should eat something else.
This lack of fiber can be problematic for people who are trying to maintain a healthy diet because it can lead to constipation, intestinal blockages, and even heart disease. Fiber helps regulate bowel movements, improves blood sugar control, aids in weight loss, and keeps you feeling full longer. In fact, a healthy diet rich in fiber can help reduce your risk of developing chronic diseases such as obesity and heart disease.
Fiber is important for maintaining healthy digestion and can help to reduce the risk of chronic diseases such as heart disease, obesity, stroke, and type 2 diabetes by promoting regularity and reducing the amount of sugar in your bloodstream.
Carbohydrates
If you are on a ketogenic diet, you should stay away from homestyle Eggo waffles because each contains 15 grams of total carbohydrates which is 5.5% of the daily recommended value which will kick you out of ketosis. Instead, try something like flapjacks or hard-boiled eggs.
On a ketogenic diet, you should aim to eat fewer than 20 grams of carbohydrates per day which means you should limit your intake of grains, starchy fruits and vegetables, sugary drinks, desserts, candy, and other high-carb foods. The average person on the Keto diet should restrict their daily carbohydrate consumption to just 5-10% of their total daily calorie consumption.
When you are on a ketogenic diet, it is essential to restrict your carbohydrate intake this switches your body from using glucose as its primary energy source to ketones. Ketones are produced when the body breaks down stored fat, which allows you to enter and remain in ketosis. If you don't adhere to a strict carbohydrate intake, your ketones will drop because your body won't be using fat for energy so you will not be in ketosis which has many benefits, including weight loss, improved mental clarity, and reduced inflammation.
Protein
There is not a lot of protein in Homestyle Eggo waffles. They only contain only 2 grams of protein per waffle, which is only 4% of the 50 grams per day that you should consume as recommended by the U.S. Food & Drug Administration.
Calcium
Each waffle is a good source of calcium because each contains 130 milligrams of calcium, which is 10% of the 1300 milligrams the U.S. Food & Drug Administration recommends that you take each day.
Calories
You won't get obese eating these waffles because each contains only 90 calories, which is about 4.5% of the daily recommended value of 2,000 calories per day. So if you like eating this type of waffle, you won't gain too much weight eating more than one. However, you won't get too much fiber or protein either.
Sugar
This type of Eggo waffle does not have too much sugar. Each one only has 2 grams of total sugars and 2 grams of added sugars, which is 4% of the 50 grams recommended per day. This Eggo flavor does not have as much sugar as their Grab & Go Liège-Style Buttery Maple-Flavored and Strawberry waffles, which have 13 grams and 11 grams of added sugars, respectively. It is also less sugar than the 3.2 grams of sugar found in 1/2 cup (23.2 grams) of Kashi Golean cereal.
Sodium
Each waffle has a moderate amount of salt – 165 milligrams of sodium which is only 7% of the 2300 milligrams you are recommended to have each day. This is less sodium than the 264 milligrams of sodium found in 1 cup (36 grams) of Wheaties cereal. You won't consume too much salt if you eat these waffles.
Saturated Fat
There isn't too much fat in these waffles – each only has 2.5 grams of total fat and 0.5 grams of saturated fat which is only 2.5% of the 20 grams you should have each day. This is a lot lower than the 6 grams of saturated fat found in their Grab & Go Liège-Style Buttery Maple-Flavored and Strawberry waffles.
Final Verdict
Each Eggo Homestyle waffle weighs 35 grams and contains 90 calories, 2 grams of added sugars, 165 milligrams of sodium, and 0.5 grams of saturated fat so it is not that unhealthy. However, each contains less than 1 gram of fiber and only 2 grams of protein so it won't be the most nutritious thing you will eat either.