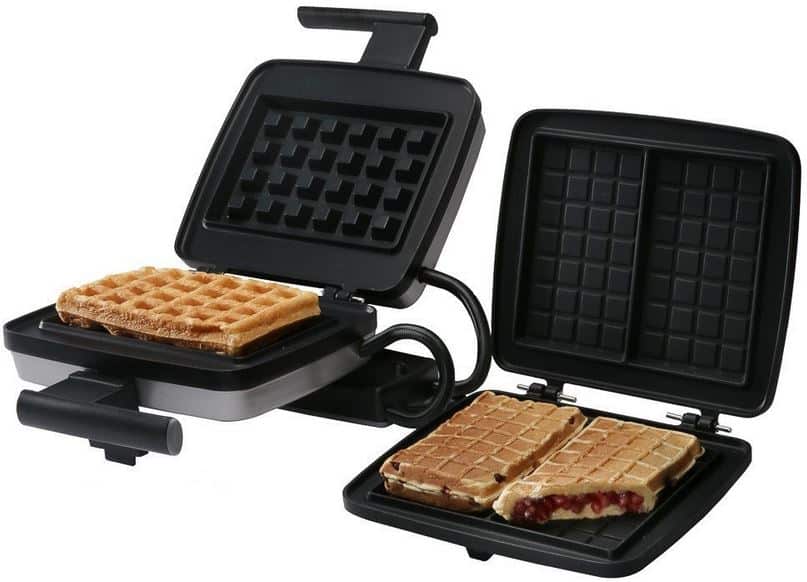 Why You Should Buy a Croquade Liege Waffle Maker
This Belgian made waffle maker has been a European favorite for over 50 years. It is a very versatile addition to any kitchen. The back and forth rotating feature ensures that the batter is evenly distributed and the results will be uniform. The temperature gauge on the top of the machine allows for experimentation with texture so you can create a light, airy waffle or a crispy, crunchy one, whichever you prefer. A very special, unique feature of this waffle maker is that the waffle plates are easily interchangeable with a variety of 8 different types of waffle plates, each with its own distinct shape and function. These additional plates include a stuffed waffle plate, a heart shaped waffle plate, an ice cream waffle cone plate, a Croqude Monsieur plate and more. This waffle maker will come with the Belgium waffle plate installed along with a traditional American waffle plate. Each dishwasher safe cast aluminum plate is produced with a non-stick coating that allows for the waffle to be removed effortlessly.
Product Features
This Belgium Waffle maker is made in Belgium
Elegant brushed stainless steel finish
Adjustable 8 temperature control setting to make the perfect waffle to your taste – #1 for the softest/lightest waffles up to #8 for the crunchiest/darkest waffles
Waffle maker will take approximately 5 minutes to heat-up
Rotation of the waffle maker flips back and forth
Indicator light goes off when waffle maker is at the temperature setting that you have selected
If indicator light comes back on during cooking simply close the lid and give it a couple minutes to heat -up to your temperature setting
Plastic heat resistant handles are cool to the touch throughout the cooking process
The handles do not lock in order to accommodate expanding/rising waffles depending on the batter used (not all batters will rise)
Automatic steam release through the unlocked lid so moisture is eliminated from waffles
The compact waffle maker can be stored either flat or upright for optimal space saving
There are 8 interchangeable waffle plates available for this machine
Cast aluminum waffle plates have consistent heat retention
The waffle plates have a non-stick coating that results in an effortless release of the waffle and easy clean up
7 inch tine fork is perfect for lifting out the waffles without getting near the cooking surface.
Power is 1200 watts
Specifications
Adjustable Angle: Yes
Color: Black
Digital: Yes
Dishwasher Safe: Yes
Drip Tray: Yes
Embedded Heating Elements: Yes
Floating Hinge: Yes
Non-Stick Surface: Yes
Patented Slope Design: Yes
Plates Included: Yes
Removable Plates: Yes
Variable Temperature Control: Yes
Warranty: 3-year Limited
Outer Material: Stainless Steel
Color: Silver
Price: under $200
Average Customer Rating: 3.8 out of 5 stars based on over 50 customer reviews
Product Dimensions: 12.5 x 12 x 7 inches
Item Weight: 8.3 pounds
Date first available: October 1, 2013
Frequently Asked Questions (FAQs)
Are the waffle plates removable?
Yes they are removable.
Unfortunately, you cannot. Unlike most waffle irons with removable plates that can be released with the push of a button, these plates are secured to the cover with screws so you will have to unscrew the plates first before you can take them out.
What is the wattage of this waffle maker?
The power is 1200 watts.
Will the plug work in Europe or is it made for U.S. households?
It is a standard U.S. plug and will only work in U.S. households. You will need to use a converter to use it in European households.
What is the voltage of this waffle maker?
It is 120 volts which is standard for U.S. households.
How many settings does the adjustable temperature control have?
It has 8 settings.
How thick are the waffles?
The waffles are 0.5 inches thick.
Do the plates of this waffle maker use a non-stick coating?
The plates are coated with a German nonstick coating called Greblon which contains PTFE.