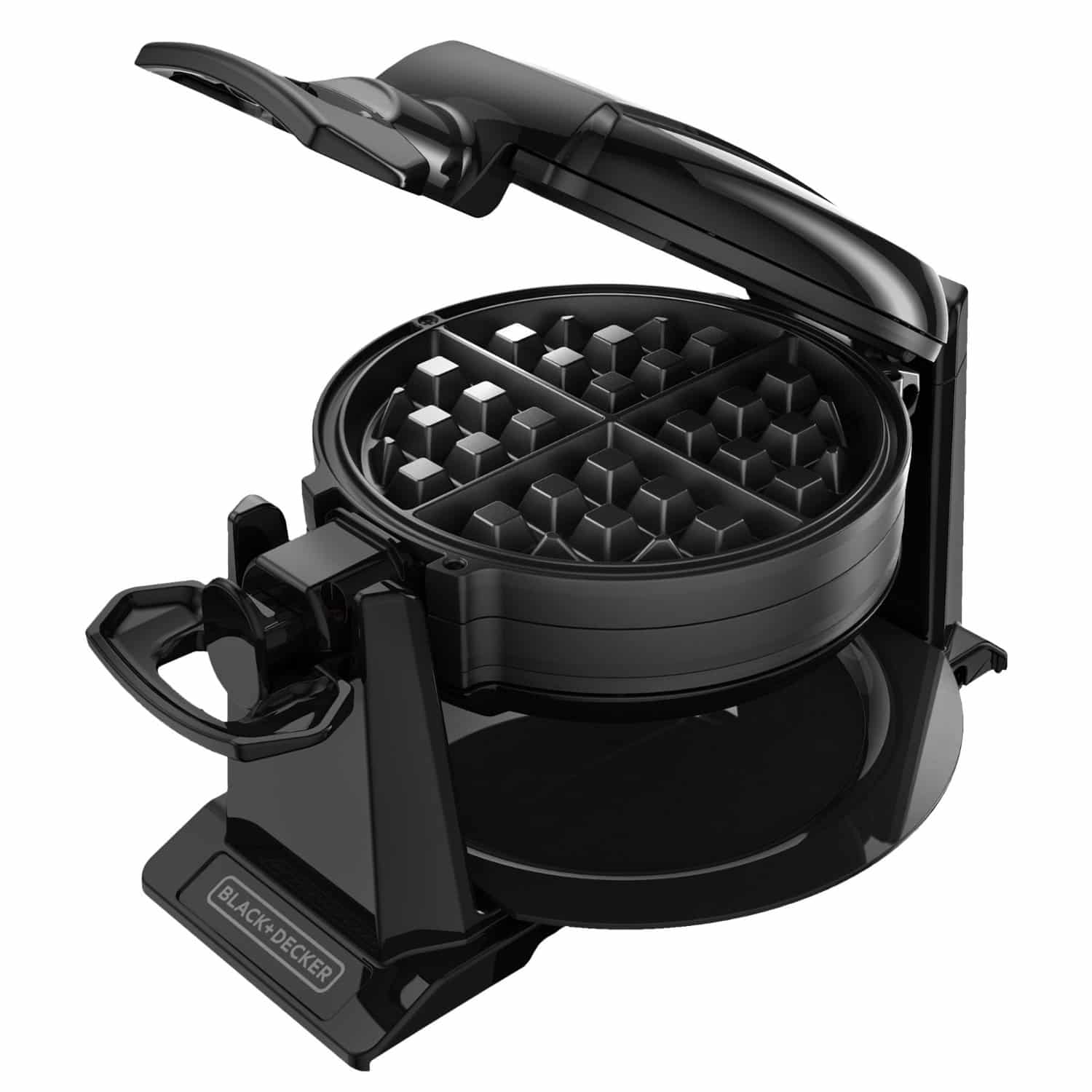 You can bake double the Belgian waffles and double the taste with the Black plus Decker Double Flip Belgian Waffle Maker. It comes with dual cooking plates that allow you to bake two Belgian waffles at the same time, while the classic rotate and cook system creates awesome texture and taste. Also the nonstick waffle plates have extra-deep grids which will give your waffles enough room for all your favorite toppings.
Pros:
Nonstick waffle grids are really easy to clean
Drip channel means no more messy drips
heats up quickly and makes great waffles in only 5 minutes
small footprint and easy to store in kitchen cabinet
digital timer tells you when your waffles are done
Cons:
no temperature control
no removable plates
Black+Decker WMD200B Double Flip Belgian Waffle Maker
Product Features
Cerama-Shield
Bake two consistent grand Belgian waffles at a time
Preheat indicator and digital countdown timer
Dual Cooking Plates
Rotate & Cook
Extra-Deep Grids
Cool-Touch Handles
Handle Lock

Adjustable Angle: Yes
Drip Tray: Yes
Non-Stick Surface: Yes
Plates Included: Yes
Temperature Indicator Light: Yes

Material: Plastic
Color: Black

Warranty: 2 Year Limited

Product Dimensions 6.1 x 14.1 x 10.1 inches
Item Weight 6.3 pounds
Manufacturer Spectrum Brands
ASIN B00UH1Z2OG
Origin China
Item model number WMD200B
Customer Reviews 4.5 out of 5 stars based on 130 customer reviews
Date first available at Amazon.com February 27, 2015
Price: under $40
Frequently Asked Questions
How many cooking plates does it have?
It has two sets of double-sided waffle plates that allow you to cook two delicious Belgian style waffles at the same time.
What type of cooking system does it utilize?
It uses a rotate and cook system. This means it uses a special cooking system that flips the plates upside down and allows gravity to do the work to turn out ideal, airy waffles.
Extra-Deep Grids
The nonstick grids turn out waffles with room for all your favorite toppings.
Cool-Touch Handles
Keep the heat at a safe distance when rotating and opening the waffle plates
Perfect Waffles
Make perfectly formed waffles every time with the rotating cooking system.
Handle Lock
A secure lock keeps the plates closed during cooking and rotating.
Does it come with indicator lights?
It comes with red and green indicator lights. The red light tells you when the unit is plugged in and the green one tells you when it is ready to bake your two waffles.
Does it use a drip tray?
Yes it does. The drip tray will keep your countertops clean. It can be easily cleaned with a damp rag.