Read about the best cast iron waffle makers for camping without teflon or non-stick coating. These waffle irons are great if you want to avoid the teflon found in electric waffle makers. Your camp breakfast doesn't have to be just granola and a banana anymore. You can treat your family to fresh and crispy old-fashioned thin waffles cooked in a quality cast iron waffle iron each morning on your camping trips. Before electric cooking devices became commonplace in this country, cast iron waffle irons were the standard and used on stoves, open fires and wood stoves. Many feature a 6.75″ diameter cooking area and have Pie Iron style rods/handles that unscrew for storage. Many are designed in the long-handled style of Pie Irons for easy open fire cooking. They are ideal for BBQ or two-burner camp stoves. A cast iron waffle maker can help you bake great tasting waffles without the use of electricity. They are made from quality cast iron so they are also much more durable than the typical plastic electric waffle makers that you see at retail stores or online. It is the only option people who want to go camping have for making waffles. Cast iron waffle makers are great for people who want to make traditional thin waffles at home without using the teflon-coating found in many of today's electric waffle makers. Some people believe that teflon contains harmful chemicals and they want to avoid having them in their waffles. Having a small amount of iron in your diet is actually beneficial to your body. As of now, there are no cast iron waffle makers that make thick Belgian style waffles. However, there are some that bake waffles that have really deep pockets and are a little thicker than the traditional thin waffle.

Rome's #1100 Old Fashioned Waffle Iron by Rome Industries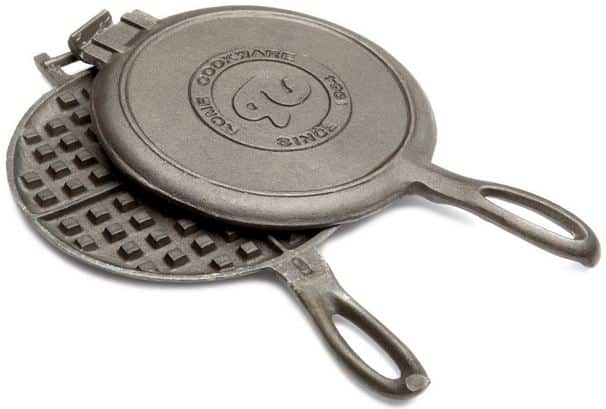 Product Features
Traditional Waffle Iron that needs to be flipped back and forth to properly bake the waffle
This appliance is more durable than any teflon-coated electric waffle maker
You have to wear good oven mitts on your hands as the whole thing becomes really hot
Perfect For Gas Burner Stoves and Two Burner Camp Stoves
You flip it over once during cooking in order to cook both sides evenly (several minutes on each side)
Cast Iron Construction (small amounts of iron is much healthier for you than the harmful teflon you find in most electric waffle makers
Makes 6 inch Diameter thin traditional Waffles
Makes waffles between 1/4 inch to a 1/2 inch thick
two sides of the iron connect using our famous hinge system for secure use and easy cleanup
Color: Metallic Cast Iron
Material: Cast Iron
Dimensions: 10 inches x 6.75 inches
Item Weight: 4 pounds
Made in China
Average Customer Review: 3.8 out of 5 stars based on over 40 customer reviews
Price: under $20
How do you use this waffle iron for cooking?
1. The waffle iron comes shipped with a lot of wax on it.
2. You must put the iron in boiling water to take off the wax coating or you can try washing the wax off with hot soapy water
3. Then you should season it by coating it in vegetable oil and baking it in the oven at 350 degrees for an hour
4. Preheat both sides of this waffle iron directly on the burner
5. Spray the paddles with cooking oil
6. Add the batter and flip the pan over immediately.
7. After about three or four minutes, flip the pan over again.
8. Then cook for another three to four minutes until it is golden brown
Useful UH-CI194 Old Fashioned Cast Iron Stove Top Waffle Iron
Product Features
Bakes delicate, crisp traditional waffles (This is not a Belgian style waffle maker. Instead, it is a waffle maker for thin waffles.)
100% Cast iron with pre-seasoned vegetable oil
Stovetop or campfire Use
Cast iron is induction safe so it can be used on a electric stove top rather than a gas stove top
Bakes delicate, crisp waffles
Compact, easy store design
New and improved! Interlocking hinges separate for quicker preheating and easier cleaning.
Deep pockets capture your favorite toppings.
Slim profile; takes up much less space than an electric iron.
hand wash Clean with Water and Stiff Brush
Material: Cast Iron
Color: Black
Product Dimensions: 12.1 x 7.5 x 1.5 inches
Item Weight: 7 pounds
Manufacturer: Useful
Average Customer Reviews: 4.1 out of 5 stars based on over 10 customer reviews
Date first available: January 11, 2016
Made in china
Rome's 1028 Chuck Wagon Waffle Iron, Cast Iron by Rome Industries
Product Features
Color: Cast Iron
Traditional Waffle Iron
6.75″ diameter cooking area
Pie Iron style rods/handles that unscrew for storage
Features Removable Steel Handles For Use On A BBQ Grill
Metal/wooden handles are around 20 inches long
Cast Iron Construction
Makes 6 inch Diameter Waffles
Material: Cast Iron
Dimensions: 23 inches x 6.75 inches
Item Weight: 5 pounds
Average Customer Reviews: 3.6 out of 5 stars based on over 20 customer reviews
Rome's 1405 Waffle Iron with Steel and Wood Handles
Product Features
Cook Waffles Over The Campfire
Can be used on a glass top stove and electromagnetic induction stovetop
Has deep pockets and the waffle is thicker than traditional waffles but it does not make Belgian-style waffles
Color: Cast Iron
Makes 3.5 inch x 6.5 inch Waffles
Cast Iron Construction
Long Metal And Wood Handles
Dimensions: 30 inches x 3.75 inches
Item Weight: 5 pounds
Average Customer Reviews: 4.1 out of 5 stars based on over 10 customer reviews
Made in china