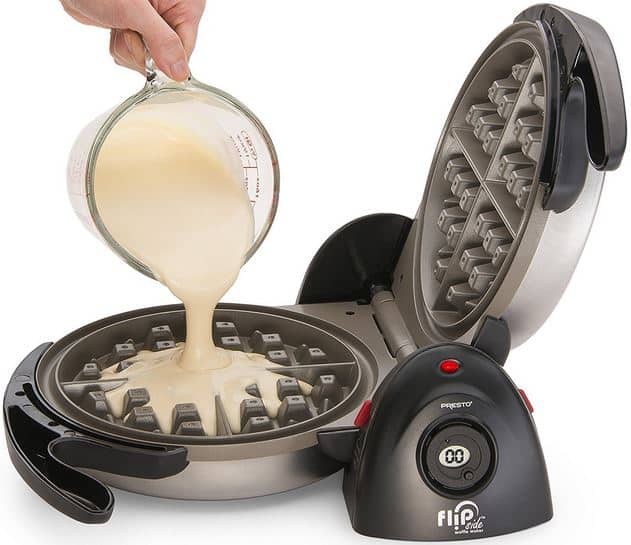 This article will review the Presto 03510 FlipSide Belgian Waffle Maker (with timer) and it will also tell you why we think this is the best belgian waffle maker for under $50. Some of the best features of this waffle iron include a digital timer and ceramic nonstick coating which means it does not contain any of the dangerous chemicals found in Teflon coated waffle irons. Ceramic coating is also more durable, easier to clean and bakes waffles faster than Teflon coating does. It makes thick Belgian style waffles which are much thicker than the traditional waffles that the best thin waffle makers make. It has a flip rotating feature so the batter is spread evenly between the two plates and both sides are cooked evenly. It does not come with removable plates but it has a nonstick coating which makes it really easy to clean.
Why is the Presto 03510 FlipSide Belgian Waffle Maker with Timer the best waffle maker under $50?
Pros
ideal for gluten free, paleo and vegan waffles
waffles are evenly cooked on both sides
easy to clean
digital timer saves you the hassle of using your own timer
stainless steel construction makes this appliance durable so it will hold up pretty well for a long time even after many uses
Cons
plates are not removable
no adjustable temperature control
digital timer is battery operated
Video Demonstration
Features for the Presto 03510 FlipSide Belgian Waffle Maker with Timer:
Material: Plastic, Stainless Steel
Color: Black
Made in USA or Imported
Professional-style rotating design
Comes with extra-thick grids that bake a 7-inch diameter Belgian waffle
Waffle comes in four easy-to-cut sections
Base has convenient rotation for baking
Locks into a vertical position to save storage space
Programmable countdown timer with digital display signals when the baking is done
Brushed stainless steel exterior makes this appliance attractive and durable
Grids come with nonstick surfaces that can be easily cleaned by wiping them down with a towel
Flips over 180 degrees to evenly spread batter between the two plates to bake waffles that are crispy on the outside and tender on the inside
120 volts AC
1100 watts
1 year limited warranty
Dimensions: 11.5″ H x 4.5″ W x 10.5″ D
Overall Product Weight: 7.23lbs
Handle length: 6″
Cord Length: 30″
If you are looking for a great waffle maker with a digital timer, then our first choice will give you the recommended one. The reason that we picked this is as our top choice is because looking at the customer reviews and also looking at the amount of features that you get we think this is the best overall choice it will also make you professional style waffles that you would expect to see in a Café. To make sure that they are cooked evenly you will also get a rotating design and it gives you an extra thick grid that will make proper Belgian waffles.
You will also get a 7 inch diameter Belgian waffle with four easy to cut sections so that will help you chop it up if you need to if you need to make up to four separate servings this will also give you a complete waffle instead of lots of small ones so it is definitely worth checking out because you can keep it as just one child waffle if you want to.
You will also get a dual function base that will give you very good rotation for baking and that is really the key and why this waffle maker is so good because it will lock into a space-saving vertical position and make sure that it makes the waffles even you will even get a countdown timer which will give you a digital display that will tell you when you waffles are ready.
Frequently Asked Questions (FAQs)
Does it come with an adjustable temperature control?
No it doesn't. You will have to lift to lid up periodically to determine if the waffle is the right shade. You should leave it in for a little longer after the steam stops if you like your waffle crispy and brown.
Are there any flip Belgian waffle makers that come with removable plates?
Yes there is. A really great waffle maker with removable plates is the Hamilton Beach 26030 Flip Belgian Waffle Maker that costs about $40. It has many positive 5 star customer reviews.
What are the benefits of a waffle maker with a timer?
You don't have to use your own timer to tell you when the appliance is finished and you won't have to lift up the lid every so often to figure out if your waffle is done.
What type of battery does the timer use?
It uses a lithium battery. I am not certain why they designed it like this. This unit already uses the electricity from your outlet to bake your waffle. Normally, a battery operated waffle maker is something that you use while you are camping and there are no electrical outlets for miles around.
Does it come with sound or audio beeps to warn you when your waffle is done?
Yes it does. When the timer shows that there is one minute remaining, it will beep two times to warn you that it is almost done. When the timer reaches zero, the timer will beep five times.
How does the digital timer on the Presto 03510 FlipSide Belgian Waffle Maker work?
The timer display and button are located on the base of the unit. You can program it to countdown from 1 to 30 minutes. It will automatically begin counting down approximately two seconds after it is set. You will even hear an audio beep when it is finished.
Is this waffle iron easy to clean?
Yes it is. It is a very convenient option if you want an appliance that you can maintain without a lot of effort or difficulty. Even though the grids or plates are not removable, this waffle maker is easy to clean. You will find that is really easy to clean as it has a nonstick cleaning surface. You can it clean really quickly. All you need to do is wipe across with a dry cloth or paper towel and it will stop all of the oil sticking, occasionally you will want to use the wet cloth to get rid of excess oil.
Does it have a small footprint or does it occupy a lot of counter space?
It has a small footprint so it will not take up a lot of space in your kitchen. The plates can be placed into a vertical position and securely locked so the unit can be stored upright on your countertop or kitchen cabinet.
How does the 180° flip mechanism help you make a better tasting waffle?
You are able to flip it over 180° which allows the batter to spread evenly between the two grids so that you can bake restaurant-style waffles that are crispy on the outside.
How much power does it use?
It uses 1100 watts. You can plug it into a typical 110/120 volt wall outlet.
Customer Reviews For the Presto 03510 FlipSide Belgian Waffle Maker with Timer:
Customers have given the Presto 03510 FlipSide Belgian Waffle Maker excellent reviews. The average rating is 4.5 out of 5 stars from many of the most popular online retail sites. It is the best waffle maker you can get for under $50.
Where Can I Buy The Presto 03510 FlipSide Belgian Waffle Maker with Timer At a Discounted Price?
You can probably buy this product at Target, Best Buy or Walmart. However, you can get this product online right now at a discount. You can even find it for sale online for under $30. That is a huge discount off of the recommended retail price of $49.99. Since it does not meet the minimum requirement of $49, you will not get free shipping. At a price just under $30, this is a really good deal. Check out this product at Amazon.com through the link below and get a huge discount.