As someone who has eliminated eggs from my diet, but still loves the taste of waffles, I was overjoyed to learn that creating eggless waffles is not as daunting as it may seem. By making a few simple substitutions and being aware of alternative ingredients, anyone can make crispy and fluffy waffles without eggs.
I've experimented with various recipes, from traditional to vegan to gluten-free, and have discovered that each one can be just as delectable as waffles that contain eggs. Thanks to easy-to-follow instructions and valuable guidance from experts, making eggless waffles has become a regular part of my cooking routine.
Whether you're searching for a healthier option or have run out of eggs, I can confidently attest that you can make scrumptious waffles without eggs. With the assortment of recipes and ingredient alternatives out there, you'll never have to miss out on the pleasure of a perfect waffle.
Why Make Waffles Without Eggs?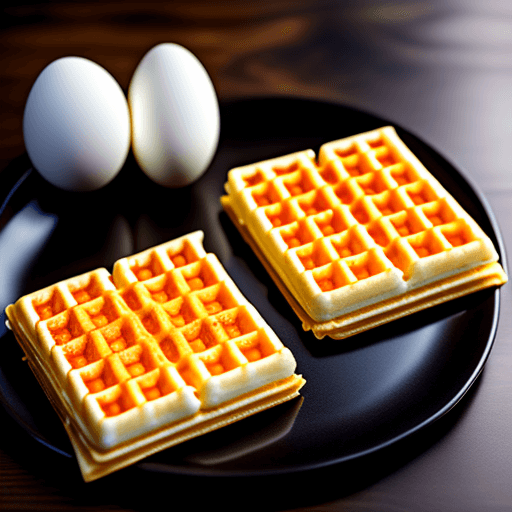 For those who have dietary restrictions or ethical and environmental concerns surrounding the use of eggs, making waffles can be a challenge. Incorporating alternative solutions for waffle recipes is crucial in these cases. Luckily, there are various substitute ingredients available that can be used instead of eggs. From flaxseed to applesauce, there are many options to make tasty waffles that cater to individual dietary needs and values. So whether it's for health reasons or personal values, it's possible to enjoy delicious waffles without using eggs. Plus, some people may not have access to eggs or simply prefer egg-free options.
Allergies And Dietary Restrictions
Egg-free waffles can be a great alternative to traditional recipes for those with allergies or dietary restrictions. In addition, some individuals choose to follow a vegan diet that excludes all animal products, including eggs.
Egg-free waffle recipes often use substitutes like applesauce, mashed banana, chia seeds, and flaxseed as binding agents. These ingredients not only replace the missing protein from eggs but also contribute flavors and textures to the batter. Additionally, specialized flour blends made from rice flour or gluten-free oats can cater to individuals who cannot consume wheat-based products due to celiac disease or gluten intolerance.
Ethical And Environmental Reasons
Eggless waffles are not only great for those with dietary restrictions but can also be a more ethical and environmentally-friendly option. Egg production can have negative impacts on the environment, including greenhouse gas emissions and water usage. By opting for egg-free waffles, individuals can reduce their impact on the environment.
In addition to environmental benefits, choosing eggless options can also align with ethical beliefs regarding animal welfare. The industrial egg industry has been criticized for its treatment of chickens in crowded cages and hormonal treatments. By selecting alternative ingredients for waffle recipes, consumers are supporting humane practices and contributing to sustainable agriculture.
Overall, making the choice to use substitutes in waffle recipes is not just about allergies or preferences; it's a way to promote conscious consumption and make positive changes toward sustainability in our food choices.
Ingredient Availability
One reason why someone might want to make waffles without eggs is due to ingredient availability. Depending on where you live, it could be difficult to find eggs or specific types of flour. Fortunately, many eggless waffle recipes call for common pantry staples, like all-purpose flour, baking powder, sugar, and milk (dairy or non-dairy), that are readily available at any grocery store.
Another factor that may affect ingredient availability when making waffles without eggs is dietary restrictions or allergies. Some people need to avoid certain ingredients like dairy, gluten, or nuts which can limit their options in the kitchen.
Individuals with dietary restrictions such as allergies to eggs can still enjoy a diverse range of delicious recipes. Thankfully, there are plenty of egg-free and allergen-friendly recipes available that incorporate alternative flours like rice flour or almond flour and non-dairy milks such as soy or oat milk. By utilizing these substitutions, those with dietary needs can still experience a variety of delectable dishes without compromising their health.
Overall, while ingredient availability may pose some initial challenges when experimenting with eggless waffle recipes; by using common pantry staples and exploring alternative ingredients for different dietary needs one can easily whip up a delicious batch of fluffy and crispy waffles without eggs!
Tips And Substitutes For Making Eggless Waffles
To make eggless waffles, you can use buttermilk or yogurt for added moisture and acidity, add extra leavening agents like baking powder or soda, experiment with different flours, and use substitutes such as applesauce, banana, yogurt, or flaxseed.
Using Buttermilk Or Yogurt For Added Moisture And Acidity
Buttermilk and yogurt are great substitutes for eggs in waffle recipes as they not only add moisture to the batter but also provide acidity. The acidity helps activate the leavening agents like baking powder or soda, resulting in fluffy and light waffles without eggs. To use buttermilk, simply substitute one cup of milk with one tablespoon of vinegar or lemon juice and let it sit for a few minutes before adding it to the batter.
Yogurt can be used similarly by whisking it with a small amount of water until smooth before adding it to the dry ingredients. Greek yogurt is an excellent choice as its thick consistency adds richness to eggless waffles while still providing the necessary acid content for optimal rising. These dairy-based substitutes work well in most traditional waffle recipes, making them versatile options for those who prefer their classic breakfast food served without eggs.
Adding Extra Leavening Agents Like Baking Powder Or Soda
Adding extra leavening agents like baking powder or soda is a great way to make up for the lack of eggs in your waffle batter. These ingredients work together to create a chemical reaction that helps the batter rise and become fluffy. Baking powder is typically used in eggless waffle recipes because it already contains both baking soda and an acid, whereas with baking soda, you will need to add an acidic ingredient such as lemon juice or vinegar for best results.
It's important to note that while adding extra leavening agents can help with the texture of your eggless waffles, it's also easy to overdo it. Too much baking powder or soda can cause your waffles to be bitter or have a metallic taste. The general rule of thumb is about one teaspoon of baking powder per cup of flour when making eggless waffles, but this may vary depending on the recipe and other ingredients used. Be sure to follow the recipe carefully and pay attention to how much leavening agent you're adding for optimal results.
Experimenting With Different Flours And Ingredients
When it comes to making waffles without eggs, experimenting with different flours and ingredients can yield some tasty results. For example, using almond flour instead of all-purpose flour can add a nutty flavor and gluten-free option. Alternatively, mixing in protein powder or ground oats can increase the nutritional value of your eggless waffles.
Playing around with spices and extracts is another way to enhance the flavor of egg-free waffles. Adding vanilla extract or cinnamon to your batter creates a sweet taste that is hard to resist. Additionally, incorporating mashed bananas into the recipe not only adds sweetness but also helps bind the ingredients together in place of eggs. With so many options available, experimenting with different flours and ingredients allows for creativity while still enjoying delicious homemade eggless waffles.
Substitutes For Eggs In Waffle Recipes (Applesauce, Banana, Yogurt, Flaxseed)
When making eggless waffles, it's important to find substitutes for the missing ingredient. One popular replacement is applesauce, which can create a moist and fluffy texture in the waffles. Simply replace each egg with a 1/4 cup of unsweetened applesauce.
Another substitute option is mashed banana, which also adds natural sweetness to the waffle batter. Use one ripe banana for every egg called for in your recipe. It not only provides moisture but also adds additional nutrients like potassium and fiber.
For those who prefer a tangy flavor profile, you can substitute yogurt for eggs. Yogurt contains lactic acid that reacts with baking powder or soda to produce carbon dioxide and gives lift to the batter. Use plain Greek yogurt or nondairy alternatives like soy or coconut yogurt in place of eggs.
Finally, flaxseed meal mixed with water can be used as an excellent vegan option instead of eggs. Mix one tablespoon of ground flaxseed with three tablespoons of water for each egg required in the recipe. This mixture turns into gel-like consistency after sitting for about five minutes and acts as a binder just like eggs would do in the batter, giving structure and stability to our waffles without sacrificing taste or nutrition content!
Egg-Free Waffle Recipes
Get ready to indulge in delicious eggless waffles with our easy-to-follow vegan, gluten-free, and dairy-free recipes! From classic waffle batter to banana and buttermilk variations, we've got you covered. Don't miss out on these mouth-watering options – read on for more!
Classic Waffle Recipe
The traditional recipe for classic-style waffles contains eggs but by using milk instead of eggs you can create a delicious egg-free version as well. To prepare this recipe, you will require a few basic ingredients, such as flour, baking powder, salt, sugar, milk (dairy or non-dairy), and oil or melted butter. The initial step is to preheat your waffle iron. Next, combine 2 cups of all-purpose flour, 2 tablespoons of baking powder, and a 1/4 teaspoon of salt in a large mixing bowl. Then add in 1/4 cup of granulated sugar and whisk everything until combined. In another small bowl or measuring jug, combine 1 & 3/4 cups of vegan nondairy milk (such as almond milk) with four tablespoons of canola oil or melted coconut oil – stir this wet mixture into the dry ingredients until just combined.
Once the batter is ready to go into your hot waffle iron plate pockets, pour out about half a cup on the center of the bottom plate of your waffle iron. After roughly three minutes when they are golden brown on both sides, carefully remove them using tongs and repeat the procedure till all batter has been used up!
Vegan Buttermilk Waffles
Vegan buttermilk waffles are a delicious twist on the classic-style waffle. This recipe uses non-dairy milk, such as almond or soy milk, and vinegar to create a vegan version of buttermilk, which helps with the leavening process in the batter. Adding vanilla extract and cinnamon will give these waffles an extra flavor boost.
To make the vegan buttermilk, you will have to mix 1 tablespoon of apple cider vinegar or lemon juice with 1 cup of almond or soy milk. Stir it together and let it sit for a few minutes until it thickens slightly. This will act as your egg substitute in this recipe, making these waffles completely vegan-friendly without sacrificing taste or texture.
Gluten-Free Banana Waffles
Gluten-free waffles are an excellent alternative for individuals with gluten sensitivities or celiac disease. Banana waffles offer a sweet and nutty flavor and will give your waffles a slightly denser texture. These waffles are made with a blend of gluten-free flours, such as almond and oat flour, in place of gluten-rich traditional wheat flour.
A key ingredient in this recipe is mashed ripe bananas, which add natural sweetness and moisture to the batter. Additionally, the baking powder helps these eggless waffles rise while adding airiness to the texture. They can be served with your choice of toppings such as sliced bananas, maple syrup, berries, or whipped cream, depending on your preference. If you're looking for something different than classic buttermilk waffles but are afraid it won't work without eggs – give banana gluten-free waffles a try!
Conclusion
In conclusion, making waffles without eggs is not only possible but also delicious! Whether you have dietary restrictions or ethical reasons for avoiding eggs, there are plenty of substitutes and tips to create crispy and fluffy egg-free waffles. From using buttermilk or yogurt for added moisture to experimenting with different flours and ingredients, the options for eggless waffle recipes are endless.
FAQs:
1. Can you really make waffles without eggs?
Yes, it is possible to make delicious waffles without using eggs in the recipe. There are various substitutes for eggs that you can use such as yogurt, applesauce, mashed bananas, or flaxseeds combined with water.
2. How do I replace an egg in a waffle recipe?
You can replace one egg by mixing together three tablespoons of warm water and one tablespoon of vegetable oil mixed with two teaspoons of baking powder until frothy. This mixture works well as an alternative to eggs in many baking recipes including waffles.
3. Are vegan waffles made without eggs healthier than traditional ones?
Vegan waffles made without eggs tend to be healthier than their traditional counterparts due to fewer calories and less cholesterol content.
4. Will my non-egg based waffle batter taste different?
Yes, your non-egg based batter will likely have a slightly different texture and taste compared to the original version with an egg but still remain equally as tasty if prepared properly and served hot off the griddle!